Abundant rainfall and mountain terrain are the perfect ingredients for creating waterfalls. Even the smallest of creeks and rivers produce small cascades. Below are 4 of the more popular trails in the Smokies. These three, although rated moderate in difficulty, are lower mileage. Be sure to stop in one of the park's visitors centers to pick up a park map before heading out on the trails
Laurel Falls
Laurel Falls is by far one of the most most popular waterfalls in the national park. The waterfall is 80 feet high and surrounded by Mountain Laurel. The trail leading up to Laurel Falls is a moderate 2.6 miles round trip. As it is a tourist destination, it can get relatively busy and parking at the trailhead is limited, so plan accordingly.
Abrams Falls
At 20 feet high, Abrams Falls might not be as high as Laurel, but the sheer volume of water cascading over the falls is breathtaking. The falls empty into a large, deep pool that is perfect to cool off your feet in after the 5 mile round trip moderate hike. During the summertime, Abrams Falls also makes a great swimming hole.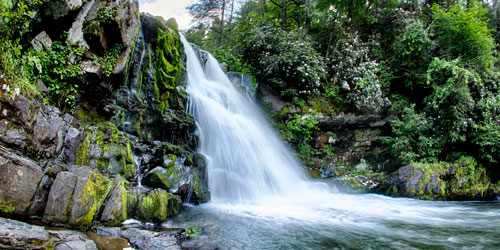 Grotto Falls
This old beauty stands 25 feet tall and is situated in an old-growth hemlock forest. The hike up Trillium Gap Trail is 1.5 miles to the falls and is also rated moderate in difficulty. The trailhead is in the heart of Gatlinburg off The Roaring Fork Motor Nature Trail. One of the most distinctive features of this waterfall is that it's the only one in the Smokies that you can walk behind.
Ramsey Cascades
The tallest waterfall in the national park, Ramsey Cascades is one of the most spectacular sites in the Smokies. The hiking trail to reach the falls is about 8 miles round trip and not for the faint of heart, but the extraordinary views are definitely worth it.